Contact Us
Wholesale Custom Printing and Packaging
AndFel's wholesale zip ties are available custom packaged to resell or to use for promoting your brand. With our custom printing services, you are not only getting a quality printing job, you are also getting a high-quality product that will leave a lasting impression on your customers.
No Minimums, No Long Waits
When you need wholesale custom zip ties, your best bet is to turn to the company that offers the fastest turnaround times in the industry: AndFel Corporation. We are a small, Indiana-based company that does not require minimum orders, so you never have to buy more than you need. Our maximum lead time is 4 weeks - a third of the time you'll spend waiting if you order from somebody else. We also offer rush service with turnaround times as short as three days.
Advantages of Custom Zip Ties & Security Seals
Why choose wholesale
custom printed cable ties
? There are many reasons to personalize zip ties. Though we can customize zip ties for just about any purpose, the most common include:
Branding: Add your brand name or logo to custom printed zip ties as a visual reminder of your company's commitment to excellence.
Security: Sequential numbers on zip ties can improve traceability and add an extra layer of protection.
Clarity: Many manufacturers eliminate guesswork for assemblers by adding small diagrams to zip ties, making it clear as to which tie goes with which part.
Personalization
Cable ties
,
security seals
and many other products can be personalized with:
Custom identification information
Legends
Sequential numbers
Graphics
Logos
diagrams
All our wholesale cable ties, zip ties, and security seals can be custom printed and packaged, so browse through our site to find the perfect product for you.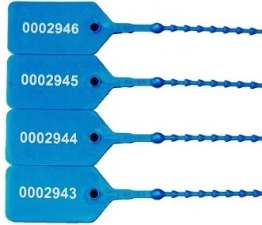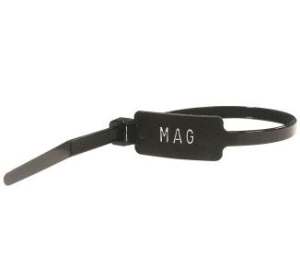 Custom Printing Services
Are you interested in getting one of the ties or seals you already own custom printed? No problem! Send the cable tie or seal product to us and we can take care of the custom print job for you. For further details,
feel free to contact us
.
No Minimum Orders for Custom Printing
Wholesale custom print jobs at other locations require you to fulfill a print order of over 1,000 zip tie or seal pieces. At AndFel Corporation, we have no minimum order number for our custom printing. We also offer price breaks for larger quantities of custom printed ties and seals.
Short Lead Times - 4 Weeks Max!
We offer the shortest lead times for wholesale custom print jobs in the industry, where our maximum turnaround time in no more than four weeks. Other companies may not be able to deliver until up to 12 weeks later!
Contact AndFel Today for Your Custom Printed Zip Tie Needs
Contact us for the best options in wholesale custom print jobs, or call or email today for a personalized quote!